Account Spark Guide for Admins
Account Spark is built 100% natively on the Salesforce ecosystem, leveraging multiple Salesforce clouds to produce a powerful and secure, insight-driven platform for our users. This means that your data never leaves the Salesforce Cloud, and along the way your data is handled within the highest guideles of Salesforce's Trust policies.

The engagement layer is comprised of beautiful Lightning components that sit on top of your Sales cloud instance. For classic users, no need to worry… our visual user interface will work for you too. There are many Lightning components including the Matrix page where you can see all of a user's accounts plotted against two metrics, Potential and Probability. The Matrix page allows you to zoom into any of the four quadrants, multi-select accounts of interest, toggle to list view, and group action these accounts including logging a data quality ticket, exporting to a spreadsheet, and producing an email distribution in Salesforce Pardot. Another important Lightning component is the Account Summary page where you can see detailed insights about any particular account. You can see a product level breakdown of potential and probability, lookalike customers who may be able to help in reference selling to the target account, and an opportunity breakdown both historically over the last several years and forward looking over the next several quarters. This engagement layer acts to keep all of your users from sales reps to executives truly engaged with Account Spark.

Next there is the CRM infrastructure layer where we have a managed package of custom code that helps you get the most out of your Salesforce instance. We have created multiple new objects with hundreds of fields, custom report types, and Apex triggers to ensure that your insights are always fresh and up to date with the latest and greatest information. This CRM infrastructure layer is invisible to most users, except for system admins, so that users are not focused on the "so what" rather than the "how" of account scoring. Included in the layer is an integration to Salesforce's Marketing Cloud, specifically Salesforce Pardot for mass email communications. Imagine you are a marketeer looking to invite prospective clients to a large event in an international top city. With Account Spark, you can instantly identify all accounts located within a 50-mile radius of this top city, hand select the ones with compelling potentials and probabilities, and then migrate your work to Pardot where you can produce an email distribution list filtered for those who have opted out. What used to take weeks now takes seconds thanks to the Account Spark CRM Infrastructure layer.

The final piece in the Account Spark technical architecture is the Data Science layer which touches Heroku and Einstein Platform Services. The Data Science layer is where all of our complex calculations happen including supervised machine learning on historical performance data. The client's data (primarily what's contained within the Account object, the Opportunity object, and the Task object) is transferred securely via Heroku Connect into a customer-unique Postgres database where we filter the data based off of the custom settings, discover trends, predict behavior, and push back actionable insights to the underlying CRM Infrastructure Layer.

In the end, our trifurcated architecture combines human judgement with machine learning to produce powerful predictions that are specific to your business. Setup is a breeze with no need for costly implementation partners. A lot of thought went into our architecture and we believe the end result is elegant and robust, allowing your business to grow sustainably over the coming years.

See the following illustration of our technical architecture: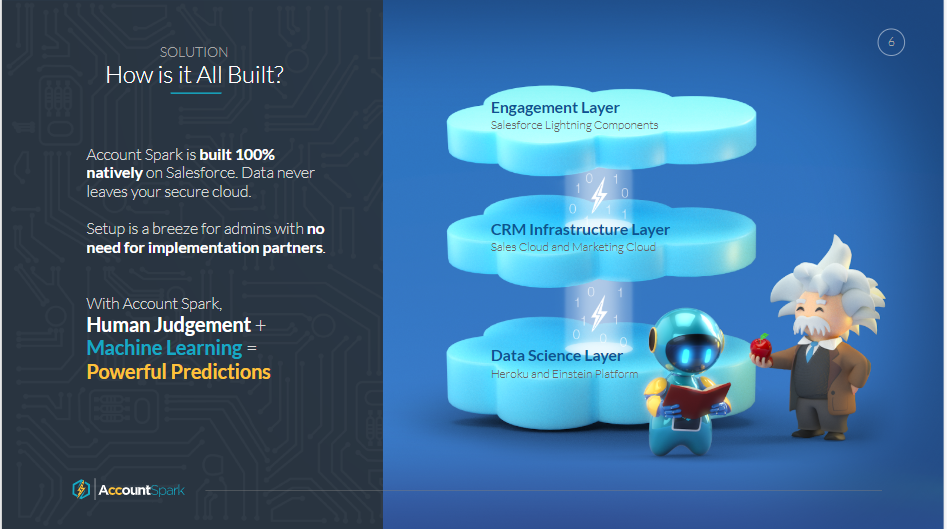 Account Spark Data Architecture

Account Summaries
Product Summaries
Cohort Analysis

Recursive Families
Top Cities methodology and the integration to ArcGIS
At a high level, users value the ability of identifying accounts that reside near a major metropolitan area. As an example, marketing specialists oftentimes create email distribution lists for major accounts (both customers and prospects) that are headquartered nearby an event location so that they may be invited to the event.

Our solution for Account Spark simplifies, solves, and scales this process in three easy steps. At first, we define top cities in a reasonable and consistent manner across the world. Metropolitan cities are defined as the grouping of all accounts that reside within a 50 mile radius of a predefined top city. This way, San Francisco Bay Area, for example, would be clearly defined as a geographical circle centered in the city center of San Francisco with a radius of 50 miles. Similarly, Mumbai would be consistently defined. Note that 50 miles was chosen as a reasonable drive time for customers and prospects as they look to attend an event. These predefined top cities were carefully chosen to avoid any overlap between two large cities that are in close proximity to each other (e.g. San Francisco, San Mateo, San Jose were combined into San Francisco Bay Area).

Next we must geocode each account address into latitude and longitude. Salesforce by default has native shipping and billing addresses that are comprised of a street, city, state, and country fields. Here Account Spark geocodes these addresses and transform them into a simple latitude and longitude. ArcGIS by ESRI has an API that can do this transformation and so the approach here has been to integrate this API into our application while upholding our security standards and exceeding the requirements of the Salesforce AppExchange.

Lastly, we added a "Top Cities" custom field and tagged each account with the name of the top city that is within a 50 mile radius. If there is a predefined top city within a 50 mile radius then the custom field value becomes the name of the Top City (e.g. San Francisco Bay Area). If there is no predefined top city within a 50 mile radius then the custom field value becomes "All Other Locations". And voila! That's how any Account Spark user can easily identify which accounts are close to their upcoming event and invite contacts to attend.

The following list of top cities and their city centers are default in the Account Spark system. They were carefully chosen to cover the top metropolitans globally across a variety of metrics including population and Gross Domestic Product (GDP) while avoiding intersection.

| | | | |
| --- | --- | --- | --- |
| Top City | Region | Latitude | Longitude |
| Atlanta (US) | AMER-US | 33.7676338 | -84.560689 |
| Baltimore (US) | | 39.2848182 | -76.690698 |
| Boston (US) | | 42.3145182 | -71.110711 |
| Chicago (US) | | 41.8339032 | -87.872391 |
| Cleveland (US) | | 41.4977038 | -81.846287 |
| Dallas (US) | | 32.8208747 | -96.871971 |
| Denver (US) | | 39.7645183 | -104.99554 |
| Detroit (US) | | 42.3523699 | -83.379389 |
| Houston (US) | | 29.8174768 | -95.682168 |
| Los Angeles (US) | | 34.0207289 | -118.69261 |
| Miami (US) | | 25.7825452 | -80.29967 |
| Minneapolis (US) | | 44.9707969 | -93.33169 |
| New York (US) | | 40.6976684 | -74.260553 |
| Philadelphia (US) | | 40.0026763 | -75.258461 |
| Phoenix (US) | | 33.6056695 | -112.40593 |
| Pittsburgh (US) | | 40.4314779 | -80.050712 |
| Portland (US) | | 45.5428626 | -122.79481 |
| San Diego (US) | | 32.824816 | -117.38985 |
| San Francisco (US) | | 37.7578149 | -122.50781 |
| Seattle (US) | | 47.6131742 | -122.48249 |
| St. Louis (US) | | 38.6532846 | -90.38389 |
| Tampa (US) | | 27.9947144 | -82.594709 |
| Washington D.C. (US) | | 38.8937796 | -77.155004 |
| Montreal (CA) | AMER-CA | 45.5581964 | -73.870729 |
| Toronto (CA) | | 43.6570304 | -79.601721 |
| Vancouver (CA) | | 49.2578262 | -123.19412 |
| Birmingham (GB) | EMEA-UK | 52.4775636 | -2.0040575 |
| London (GB) | | 51.5287714 | -0.2420248 |
| Manchester (GB) | | 53.4723271 | -2.2936741 |
| Dublin (IE) | | 53.3244427 | -6.38613 |
| Paris (FR) | EMEA-FRANCE | 48.8589506 | 2.2768485 |
| Berlin (DE) | EMEA-DACH | 52.5069296 | 13.1438663 |
| Frankfurt (DE) | | 50.1213475 | 8.4961375 |
| Munich (DE) | | 48.1550543 | 11.4014091 |
| Vienna (AT) | | 48.2208282 | 16.2396334 |
| Copenhagen (DK) | EMEA-NORDICS | 55.6713441 | 12.5236127 |
| Stockholm (SE) | | 59.3262416 | 17.8416275 |
| Barcelona (ES) | EMEA-IBERIA | 41.3948975 | 2.0785562 |
| Madrid (ES) | | 40.4381307 | -3.8199642 |
| Lisbon (PT) | | 38.7437395 | -9.2304149 |
| Milan (IT) | EMEA-ITALY | 45.4628327 | 9.1075207 |
| Rome (IT) | | 41.9102411 | 12.3955705 |
| Amsterdam (NL) | EMEA-BENELUX | 52.3547746 | 4.758197 |
| Tel Aviv-Yafo (IL) | EMEA-MIDDLE-EAST | 32.0880576 | 34.7270341 |
| Dubai (AE) | | 25.075706 | 54.9468685 |
| Cairo (EG) | | 30.0595581 | 31.223359 |
| Jeddah (SA) | | 21.4505278 | 38.9302698 |
| Istanbul (TR) | EMEA-ROEMEA | 41.0054989 | 28.7313076 |
| Moscow (RU) | EMEA-EMERGING | 55.5815182 | 36.8237499 |
| St. Petersburg (RU) | | 59.9396916 | 29.5289283 |
| Cape Town (ZA) | | -33.913123 | 18.0942496 |
| Johannesburg (ZA) | | -26.17135 | 27.9698128 |
| Osaka (JP) | JP-JP | 34.6784656 | 135.460045 |
| Tokyo (JP) | | 35.6735404 | 139.56996 |
| Melbourne (AU) | APAC-ANZ | -37.970148 | 144.491335 |
| Sydney (AU) | | -33.847355 | 150.651103 |
| Bangalore (IN) | APAC-INDIA | 12.9542944 | 77.4905099 |
| Hyderabad (IN) | | 17.4126272 | 78.2676161 |
| Mumbai (IN) | | 19.0825221 | 72.7407568 |
| New Delhi (IN) | | 28.5275195 | 77.0685563 |
| Seoul (KR) | APAC-KOREA | 37.565289 | 126.849122 |
| Jakarta (ID) | APAC-ASEAN | -5.7759349 | 106.116123 |
| Manila (PH) | | 14.5965787 | 120.944454 |
| Singapore (SG) | | 1.3143394 | 103.70382 |
| Bangkok (TH) | | 13.725108 | 100.35223 |
| Beijing (CN) | APAC-GCR | 40.2484481 | 115.345132 |
| Guangzhou (CN) | | 23.1259806 | 112.946965 |
| Hong Kong (CN) | | 22.352991 | 113.987271 |
| Shanghai (CN) | | 31.2243025 | 120.914923 |
| Taipei (TW) | | 25.0174716 | 121.365949 |
| Rio de Janeiro (BR) | LACA-BRAZIL | -22.913251 | -43.726858 |
| São Paulo (BR) | | -23.68153 | -46.876175 |
| Mexico City (MX) | LACA-MEXICO | 19.3910036 | -99.284042 |
| Bogotá (CO) | LACA-ROLACA-NOLA | 4.6486259 | -74.248237 |
| Buenos Aires (AR) | LACA-ROLACA-SOLA | -34.615662 | -58.50351 |
| | | | |
Integration to Pardot
Heroku Connect and the secure syncing process
Data Quality Cases
Setup Wizard

Organizational Settings
Mapping Settings
Product Settings
Data Science Settings
API Triggers

Recommendations Engine